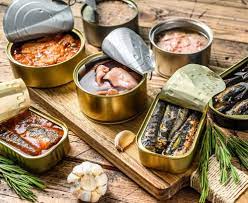 How to make a Tik Tok Tin Fish - more than 1,000,000 views
Indulge in the latest food trend with our #Seacuterie spread featuring the best tinned fish options. From sardines to anchovies, tuna to mackerel, and salmon, our spread is both photogenic and delicious. Perfect for a date night or dinner party, it's easy to throw together and sure to impress even the most devout charcuterie fan. Stock up on your favorite tins and join the #TinnedFishLovers community today.
Tinned fish is a rising trend on TikTok, with people embracing the simplicity and deliciousness of seafood in a can. It's a refreshing change from the typical charcuterie boards that we're used to seeing. The beauty of tinned fish is that it's easy to incorporate into your diet and create a delicious spread for any occasion. TikToker Ali Hooke has taken the trend to the next level by showcasing weekly tinned fish spreads that are truly mouthwatering.
The idea behind the tinned fish spread is simple: stock up on different types of tinned fish, add some fresh bread or crackers, and voila! You have a photogenic and delicious spread that's easy to put together. TikTok has inspired people to turn their grocery shopping trips into tinned fish tasting adventures. It's a fun and creative way to enjoy a meal.
If you're intimidated by the #seacuterie trend, don't be. TikTok has curated a list of 13 approved tinned fish spreads that are sure to impress even the most devout charcuterie fan. These spreads are not only stunning but also delicious, making them the perfect addition to your next date night or dinner party. So why not embrace the tinned fish trend and add some variety to your meal plans?
If you're looking for the best tinned fish to include in your spread, here are five options that are highly recommended:
Sardines - Sardines are a staple in the tinned fish world, and for good reason. They're versatile and can be added to salads, sandwiches, pasta dishes, and more.
Anchovies - Anchovies have a distinct flavor that makes them perfect for adding depth and complexity to sauces, dressings, and spreads.
Tuna - Tuna is a popular choice for a quick and easy snack or sandwich. Look for high-quality brands that are packed in olive oil or water.
Mackerel - Mackerel is a fatty fish that has a rich and bold flavor. It's perfect for spreading on crackers or adding to salads.
Salmon - Salmon is a great source of omega-3 fatty acids, and it's also delicious when added to spreads or used as a topping for crackers.
These five tinned fish options are a great starting point for your next tinned fish spread. They're delicious and easy to incorporate into your diet, so don't be afraid to experiment with different brands and flavor combinations.

Tuna Pasta Salad:
Ingredients:
1 can of tinned tuna, drained
1/2 pound of pasta (any shape)
1/2 cup cherry tomatoes, halved
1/4 cup sliced black olives
1/4 cup diced red onion
1/4 cup chopped fresh parsley
1/4 cup mayonnaise
1/4 cup sour cream
2 tablespoons lemon juice
Salt and pepper, to taste
Instructions:
Cook pasta according to package directions until al dente. Drain and rinse with cold water.
In a large bowl, mix together the pasta, tuna, cherry tomatoes, black olives, red onion, and parsley.
In a small bowl, whisk together the mayonnaise, sour cream, lemon juice, salt, and pepper.
Pour the dressing over the pasta mixture and stir to combine.
Cover the bowl with plastic wrap and chill in the refrigerator for at least 1 hour, or until the pasta is cold.
Serve the pasta salad chilled. Enjoy!
#TinnedFishLovers
#Seacuterie
#SardineSpread
#AnchovyAddict
#TunaTastic
#MackerelMadness
#SalmonSatisfaction
#TinnedFishTrend
#SpreadTheLove
#CannedSeafoodCraze